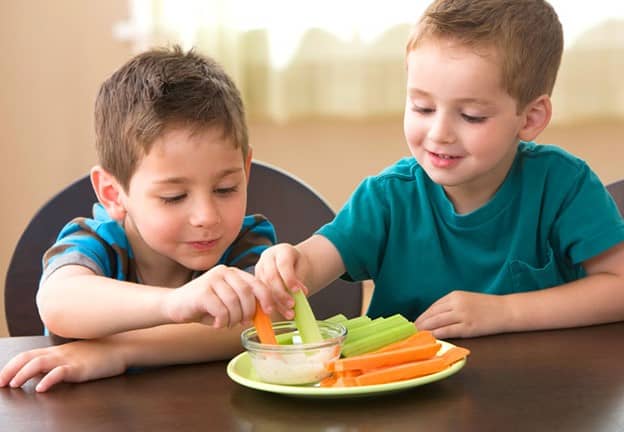 There are two children in the house where one eats 3 times and one takes everything for eating in his mouth whatever comes in front of him. The difference is healthy habits the first one learns starting. One thing I have learned as a mom is that we can control what our children eat for the most part. Most parents should work as a gatekeeper to what goes into their child's mouths.
What I also learned is that when you give them choices, you lost them. When they have choices, they start demanding and things go on like this way. I am watching my kids for the last five years since birth and did not give him choices and now he eats what we eat.
Important tips to change kids eating habits
Offer healthy choices more than once
Don't understand me wrong but not all children are different and kids can be taught what to eat. It takes exposure to a food up to 7 times before they know whether they like it or not. Don't give up.
Try preparing foods in different ways
If your kids don't like broccoli the first time you offer it raw because they may be expecting something steamed or boiled with olive oil, salt, and pepper. My children love fried broccoli. Try different ways to know their interest in different food items.
Don't bring other options for them
This is one of the easiest ways to make choices. If the kids have healthier choices, they will understand the value of it in the long run. Stop bringing chicken nuggets, white bread, and mac and cheese in the house. I promise that they won't starve but you know that taste buds can ruin their health in the future time. It can be a strict decision for you at once but later on, you will remove lots of disease issues for them.
Understand that children go with the life phases
Just as an adult do, children also go through the different phases of eating as well. If I will go on a yogurt kick for a solid 2 months, then I won't eat for 6 months after that you want them at all. This is normal behavior and but if you try soon your children will come to spinach. In the meantime, try adding a smoothie and they won't know the difference. Some children are also fond of energy drinks. If you cannot stop them from consuming it, give them Yerba Mate for a healthy energy boost.
Make sure that ingredients are not harmful to them
A lot of processed foods can cause inflammation to them. Refined sugar and simple carbs are examples of this. These foods can cause greater health issues such as major bloating, leaky gut, stomach pain, and weight gain too. We are not helping our children by offering processed foods. If you cannot pronounce an ingredient, it is better to put back it on the shelf. Don't use more than 4-5 ingredients at once. If you are on a vacation, you can let them enjoy Mate Mate energy drink for once.
Give yourself grace
When we are on the way to changing our kid's habits, have patience, it can take time. It took us years to change my daughter's taste buds. Don't feel like you have to restrict them to certain foods but you have to make healthier things so good that they fall in love with them. Your small changes can lead to bigger changes one day. Try switching their main course into palatable like small chunks of grilled chicken with a dip or some marinated steak bites. Our small changes can lead to kicking off processed foods for our kids will be a breeze.