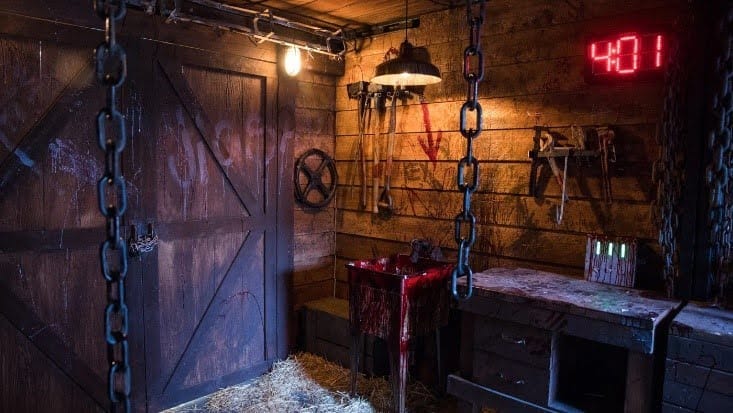 We all are well aware by now that players around the globe widely know escape room games. Adrenaline junkies love these mystery thrillers because of their unpredictable nature. They are stacked up with a plethora of mysteries and conundrums.
Here are the 10 best escape rooms in the World that you should definitely check out!
1.  SHERLOCKED – THE VAULT – Netherlands
This Netherland escape room is exceptionally fascinating to players around the globe because of the interior and compelling infrastructure. If you are a fan of the Sherlock Holmes series, this escape room is here to bring life to your childhood fantasy. The brands offer two different escape rooms that can suffice up to 6 players.
Location – Damrak 247, 1012 ZJ Amsterdam, Netherlands
Price – Starting from $ 89.75
2.  The Laboratory in Bunschoten – Netherlands
This escape room offers interesting, fun games, such as pool tables and crazy arcade games, along with an extraordinary storyline. The brand also curates a heart-touching video of all your fun times in their escape room. So, you get a chance to have a look at the mesmerizing video and relive your joyous moments at The Laboratory In Bunschoten. These rooms are fit for a group of 3-6 players.
Location – Nijverheidsweg 5b, 3751 LP Bunschoten-Spakenburg, Netherlands
Price – Starting from $130
3.  ESCAPOLOGY
Escapology, one of the fastest-growing escape room chains, offers 11 different themes. This brand has something in store for everyone! They have designed each game to offer a different level of challenge.
Location – multiple locations
Price – Starting from $130
4.  Key Escape – South Korea 
This fantastic brand operates its escape rooms in 3 different locations. Furthermore, Key Escape South Korea is the only location where they communicate in English. The best part is that you don't need an entire team of people to partake in this game. A single player can also participate!
Location – 23-10 Myeong-dong, Jung-gu, Seoul, South Korea
5.  The Basement – Los Angeles
The spine-chilling storyline fused with out-of-the-box artifacts makes the place a once-in-a-lifetime experience. You just have 45 minutes to escape from the serial killer's wrath. If you fail, you will be his next meal. The rooms are suitable for 4-8 players.
Location – 12909 Foothill Blvd, Sylmar, CA 91342, United States
Price – Starting from $38.
6.  Escape Boats-SOS (IRELAND)
The game is designed in a unique setting. It offers a mysterious storyline that will keep you baffled throughout the game. The brand can accommodate up to 16 players in one go.
Location – Charlotte Quay, Grand Canal Dock, Dublin 2, Ireland
Price – Starting from $37
7.  The Mr. X Mystery House
This place offers multiple options to choose from as it is an entire house full of escape rooms. Each room offers a unique experience, from challenging to scary, they have it all! Mr. X's is an excellent room, stacked up with brain-teasing games.
Location – 2/F, Shimao Department Store, No.13 Gongti North Road, Chaoyang District, Beijing, China
8.  The Office (Philadelphia)
This escape room revolves around a mysterious yet fun storyline. Only 20% of the participants have made it out of this escape room to add to the thrill. Undeniably, this escape room is pretty challenging. It can suffice up to 10 participants. Are you clever enough to wiggle your way out?
Location – 1528 Walnut St, Philadelphia, Pennsylvania
9.  The Escape Game (Nashville)
This brand offers multiple rooms that are perfect for any gathering. The Escape Game in Nashville offers rooms that are suitable for different age groups. They can suffice up to 6 members at a time.
Location – multiple locations
Price – Starting from $33.99
10.              Breakout KC
This brand offers one of the most difficult escape rooms, with the
success rate being 26%. Players often revisit to challenge their brain juices again. Breakout has a lot to offer, and you must check it out at least once in your lifetime!
Location – 114 W 3rd St #102, Kansas City, MO 64105, United States
Price – Starting from $32