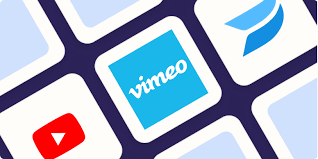 Today, Vimeo is much more than just a platform for watching and sharing videos. It is a platform on which to develop, start a business, etc. Vimeo has a tonne of features, but did you know that there are some that not many people are aware of?
The five features of Vimeo that you may not be aware of will be covered in this article.
What is Vimeo?
Vimeo, Inc. is a video hosting, sharing, and service platform company based in New York City. Vimeo focuses on delivering high-definition video to a variety of devices. The business model of Vimeo is based on software as a service.
The site was founded in 2004 as a spin-off of CollegeHumor to disseminate hilarious films among employees, but it was put on hold to support CollegeHumor's growing popularity. IAC bought CollegeHumor and Vimeo in 2006, then when Google bought YouTube for more than US$1.65 billion; IAC concentrated more attention on Vimeo to compete with YouTube, delivering handpicked content and high-definition video to separate itself from other video-sharing sites.
Whether you're a professional or a weekend filmmaker, Vimeo PRO provides the tools you need to exhibit your work on a beautiful and sophisticated yet simple-to-use platform. Upload your finest work without regard for quality constraints.
Aside from the extremely fast VIP service with genuine person representatives (1-hour response time on business days), creators have no bandwidth or time limits on their films, ensuring that your video(s) remain online if they go viral online. You'll also benefit from quicker video conversion, unlimited video time, and extensive reporting.
What does Vimeo serve?
Members can view, upload, and share videos on the video-sharing website Vimeo. Members have a choice between using Vimeo's free service or a variety of premium options designed to provide organizations more control over how their movies are shown online.
Why are people so fond of this video-sharing website?
Producing high-quality videos with text, music, and calls to action is made possible by the platform with the aid of producers who can record, edit, and generate content.
It also provides you with access to a number of collaboration tools, workflow features, privacy settings, and in-depth analytics so you can discover which movies your audience finds enjoyable.
5 Vimeo features that you don't know about:
Now you know about Vimeo and how it works, let's move on to the 5 features that you don't know about Vimeo.
Customizable player:
Vimeo allows you to customize the appearance of the player on your video page, including the color, size, and layout. This is a handy feature for ensuring that your player is consistent with the look and feel of your brand or website. To customize your player, click the "Customize Player" button on your video's settings page. You'll then be able to choose from a range of customization options, including the player's color, size, and layout. You can even add your own logo or watermark to the player.
Privacy settings:
Vimeo offers a range of privacy options for your videos, giving you the ability to control who can view your content. You can make your videos private, meaning that only you can see them, or you can make them password-protected, requiring users to enter a password in order to view them. You can also make your videos available only to certain users or groups by creating a private link or by using Vimeo's "Only people with a link" setting. To access these privacy options, click the "Privacy" tab on your video's settings page.
Caption and translation options:
Vimeo allows you to add captions and translations to your videos, making them more accessible to a wider audience. This can be especially useful if you're targeting a global audience or if you want to make your videos more accessible to viewers with hearing impairments. To add captions or translations to your videos, click the "Caption & Translation" tab on your video's settings page. You'll then be able to upload a caption file or request a translation from Vimeo's professional translators.
Portfolio feature:
Vimeo's portfolio feature allows you to create a customizable showcase of your work, including videos, images, and other media. This can be a useful feature if you're a content creator and want to create a professional-looking portfolio of your work. To access the portfolio feature, click the "Portfolio" tab on your homepage. You'll then be able to create and customize your portfolio, including the layout, design, and content. You can even add your own logo or branding to your portfolio.
Analytics:
Vimeo offers detailed analytics for your videos, giving you insights into how your content is performing. You can view information on views, engagement, and demographics, as well as see which platforms and countries your videos are being viewed from. This can be a useful feature if you want to understand your audience and optimize your content strategy. To access your analytics, click the "Analytics" tab on your video's page. You'll then be able to view a range of metrics, including views, likes, and comments, as well as see how your videos are performing compared to others in your industry.
Albums:
For PRO users, the "Albums" tool is ideal for grouping similar clips into sets, but not just your own. For example, if you just recorded multiple films about wingsuit flying, simply establish a "Wingsuit" album and then add any additional relevant Vimeo clips you come across. Best of all, you may share these albums with whomever you choose.
On-Request Albums and Videos:
Consider making a short film, web series, or even intriguing vlogs about your trips. Vimeo On Demand empowers PRO users to sell their material directly to their target audience. Other networks may provide comparable distribution options, but On Demand allows authors to customize their websites any way they see fit. Furthermore, the 90/10 income split (after transaction fees) assures you are appropriately rewarded for your effort, and Vimeo even pays all shipping expenses. You are not limited to selling your work on Vimeo but can sell it anywhere (beginning at $.99). Watch the videos in HD on the web or mobile devices such as tablets, smartphones, and linked televisions.
A Feedback Page for Videos:
If you want to exhibit your work but don't hold a website, we have a way to do it; the semi-private and unlisted " Video Review Pages" can help. These sites can help distinguish by the absence of branding and advertising by Vimeo and the availability of random comments, giving uploaders a chance to Voice Critique, even if they are not members. All stats, however, may be seen on your Advanced Stats page. Do you want a better method of arranging your videos? "Albums" should suffice.
Incognito Mode:
Have you created a website for your company or film studio? Vimeo PRO members can disable the display of their profiles and videos on the site. This means you may still embed branded or non-branded films on your website, other websites, and PRO portfolios.
Overall, Vimeo is a powerful platform that offers a wide range of features for content creators and viewers. Whether you're looking to customize the player, control privacy settings, add captions and translations, create a portfolio, or view analytics, Vimeo has something to offer. By taking advantage of these features, you can create and share high-quality content, engage with your audience, and build a successful career on Vimeo. To learn more about such hacks, check out 4Hub.