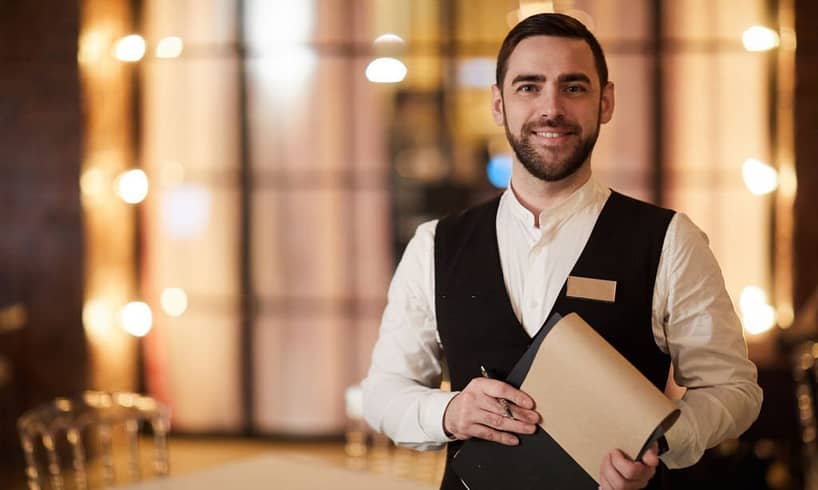 Doing a job in the Hotel Management industry makes you learn transferable skills, hospitality, management skills, leadership skills, and patience. This is the most preferable job in UAE. As there are several career opportunities in Dubai based on hospitality jobs. Many high-rated Hotels in Dubai provide secured and highly Professional Jobs in Hotel to qualified, and skilled job seekers. Along with the required qualification, to seek the job of hotel service management, a person has to clear the interview with good results to select in the Best Dubai Hotel Recruitment process.
In Dubai, usually, the hotels are 5-star or 7-star rated hotels that are expensive of course for their services. So, the hotel staff or management recruited for the service purpose of any of the Dubai hotels have to follow the rules and regulations strictly. Maintaining the Professionalism and standard among the management team and staff to welcome the Guest of the hotel gracefully with confidence in posture and communication. They must be punctual, must be presentable in an accurate uniform, and behave politely to the guests. There are many jobs in the hotel industry in Dubai like catering jobs, event managers, hotel managers, receptionists, chefs, General managers, departmental managers, Chief engineers, Executive directors, sales Director, Assistant managers, house-keeper who clean rooms, waiters, Bartenders and Concierge(Gate-keeper).
To get a job in the Dubai Hotel Industry, you need to get :
Required qualification for the required job like for accountant service, the person must qualify their Graduation from the recognized University, Similarly, to become a manager of the hotel, the person must have a degree of Masters in Business Administration (MBA).

Knowing about the Hotel Job market in Dubai makes the growth of your interest and personality. You can even apply for a job that isn't suitable for your want but temporarily applying for good job positions at a good hotel in Dubai can result in personal growth, brings more experience, and better career opportunities.

To get the job of your choice of work, you need to apply for the particular job and according to the vacancy, the best Dubai Hotel Recruitment process starts for the applicants. Sometimes, They recruit from the earlier list or sometimes they interview for the same to select the best qualified and suitable candidate for the required job.
To apply for the Best Dubai Hotel Recruitment process, you need to send a CV of yours to the selected hotel in Dubai or if you don't stay in Dubai, you can select the location of the hotel online in which you want to apply and can send an email of your resume or CV to that hotel website.

Build a connection with hotel Industries to boost your career growth and opportunities. Social media and different job sites help in reaching various hotel industries and building connections with them.

Prepare yourself for being adaptable and dynamic to the situation such as in a pandemic situation every hotel manager and hotel industry were looking for staff or management team members who can adapt to various changes that were taking place in Hotel's rules and regulations, policies, and procedure to serve the guest more carefully and politely.
To show your interest and passion for your work whether you are working as a chef, manager, hotel staff, receptionist, waiter, accountant, or concierge(gate-keeper or door-keeper).

Ask your recruitment agency to Fill out your application according to the list of vacancies for the best Dubai Hotel Recruitment.
A convincing attitude helps the interviewee to get recruited by the employer or recruiter for the very first time.

To get the job, if you are not a citizen of Dubai, then get an accurate VISA, present a health care card along with permission for doing the job there related to hospitality, and then apply online for the job.
For Getting the Job in the Dubai's Hotels Industry, the Following Qualifications Needed Are : 
There is no need to get a specialized degree for hotel work or jobs but there is a high need for skills, qualifications, and person's interest to perform the particular hotel job.
The qualifications needed for the type of job work are :
Graduation for Accountant

MBA for Hotel Manager or management officer or higher position.

Culinary food degree and experience in preparing and gauzing dishes to become a Chef.

Bachelor's degree in Business Administration for Hotel Receptionist along with knowledge of Computer and other information technology.
For the persons who like challenges and a fun work environment can apply for the hotel job easily. As every day at hotel service management, there is some challenging task happens. 
By knowing some of its benefit, you will better understand the need to get the job in Dubai Hotel Industry.
Benefits of Getting and Doing a Job in the Dubai Hotel Industry :  
Doing any type of job in Dubai is tax-free or non-taxable.

As hotel service is expensive in Dubai Thus, it offers good salaries to the team members of hotel management. Also, earning gets improved as Dubai has the fastest growing job market for the hospitality or hotel industry.

Hotel Management job in Dubai improves the standard of living.

It has a flexible work environment to shift your work on a requirement basis. As the hotel teamwork 24 hours i.e., 24×7. So, according to the number of members and work, you can flexibly work in the Hotel.

Working in a Dubai hotel provides more job opportunities.

The Hotel Job in Dubai provides complete security of Job.
Conclusion
The Hotel Industry in Dubai provides a vast variety of jobs to people from worldwide based on their skills, experience, interest, and qualification. Other than the career opportunities, doing the job or getting a job in the hotel industry in Dubai requires hospitality Professionals who can communicate with the people confidently. Professionals can interact with people from all over the country and the world.