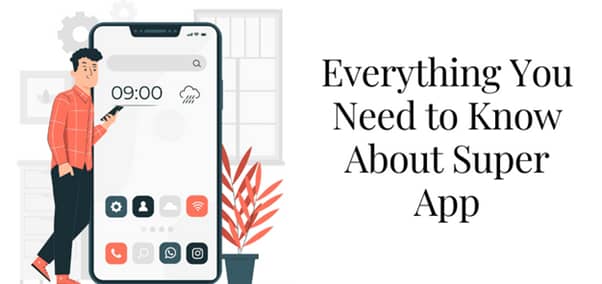 Want to purchase meals online to your door, make a payment online, or shop for the newest clothes that are no longer only available at the mall? You have a lot of apps in mind, right? But in the last five years, a brand-new technology trend called the Super App has emerged. This has overall boosted the business of Mobile App Development.
Super apps are mobile programmes that integrate many services. They keep the consumer contained within a single ecosystem of a specific company's services. These are most frequently found in the areas of mobile banking, lifestyle, product delivery, taxi booking, and personal services.
The BlackBerry founder Mike Lazaridis is credited with originally using the term "super app." He defines a super app as a closed ecosystem in which multiple apps run side by side. As the name implies, a super app provides access to a variety of services all in one place, saving phone capacity by eliminating the need for additional apps. An app that is simple to use, frictionless, functional, offers quality services and enables a multifaceted experience will have very devoted users.
The issue of the "peaceful coexistence" of many Super Apps on our smartphones that use our private data and general information security is still up for debate. It's straightforward: hazards increase when more facets of life are concentrated in "one hand" (one gadget, one application).
KEY ADVANTAGES OF SUPER APP:
Super Apps are being used by many businesses presently or soon will be, and there are valid reasons for this. Super Apps are a fantastic alternative to traditional applications because of their many advantages.
A) Extensive geographic reach
Such a form of solution lowers the risks connected with product launches because the targeted audience of super applications is quite broad, encompassing vast territories.
B) Simple and quick onboarding
Super Apps also lower analytics expenses and streamline the onboarding process for new consumers. Additionally, it is simpler for a Super App to draw in and keep users.
C) Lower cost of development
Super Applications have much lower financial expenses. The majority of the mini applications included inside the Super App are created through partnerships with businesses hoping to attract a sizable user base. Super Apps create space for integration and take a platform-based approach to product scalability.
D) Lower costs for product ownership and development
The majority of "mini-applications" inside "Super Applications" are developed through integration with businesses looking to market to a wide user base. Super Apps promote integration and scale products using a platform-based strategy.
E) Better engagement with Customers
increase the level of customer involvement. The user does not need to download different apps to complete daily duties because the super app combines various functionalities.
F) An improved investment outlooks
Bringing up more investors Super applications have the potential to generate considerable funds and investments because they have a greater user base due to their ability to accomplish everything.
DISADVANTAGES OF SUPER APP:
A) Internet Connection is a must
Super Applications only function when the internet is connected.
B) Secure Personal Data
Super Applications require a large amount of digital data storage. All user inputs and outputs may be affected if these repositories are compromised. Users' personal information, including transaction history, contacts, payment card information, contacts, preferred destinations, and much more, are easily accessible to attackers.
C)Users' Super Accurate Ads
Everyone is aware that Super Apps are a fantastic platform for ad targeting. The user's hobbies, current events, income level, and even the times of day when they are most likely to open pop-up windows may all be determined from the data collected from all the devices they use. And in this case, users are held captive by this incredibly precise advertisement.
LEADING EXAMPLES OF SUPER APPS:
A) UBER
The biggest Super App in the US, according to some, is Uber.
-One can order food through Uber Eats
-One can order merchandise, summon a taxi, and use car-sharing services.
-The Uber business offers the UberWallet, a platform for connecting users, drivers, and couriers, -The UberMoney payment service
B) Google Maps
You can use Google Maps to:
-find directions
-plan routine journeys, like going from home to work, book tours
-Book hotels, and flights
-Reserve tables at restaurants
-Place food orders
-Contact taxis and other forms of transportation through Uber.
Options differ according to country.
C) Grab
Grab is another popular Asian app that is owned by a Singaporean firm. The transit space is Grab's most distinguishing feature. Despite this, the platform is expanding into food delivery and online payments, demonstrating its reputation as a super app and providing almost anything in the consumer services industry. It offers:
-System of Shuttle /Taxi
-Assistance
-Notifications
-GrabCash\sGrabPay\sGrabWallet\sGrabBenefits
-GrabFood
FACTORS THAT MAKE AN APP A SUPER APP:
A programme can advance to the "Super" category only if it benefits all users equally. These programmes need to reflect both current market trends and what the user would like to see. Such businesses should abide by three essential guidelines to achieve this.
A) Simpler outreach
Constant access to the application should be the fundamental guideline for Super Apps. This indicates that a business of this type is erasing distinctions between the physical and digital worlds. You can improve the user experience if you can get rid of all the obstacles to inclusion. This is a crucial issue that Super Apps must take into account.
B) Security of Data
For hackers, having access to so many banking services in one app can be paradise. Once users install such an open system, they have access to a sizable amount of client data as well as resources like cash and confidential information. This is a justification for businesses to make sure that their super applications maintain a seamless and fraud-free user experience. Companies should concentrate on natively implementing robust authentication into their apps in addition to protecting mobile apps.
C) Social accountability.
Numerous online enterprises have an impact on people's quality of life both through what they do and through how they do it. Take transportation services as an example. Does your business utilize just environmentally friendly vehicles, such as electric cars, or does it also contribute to global warming?
HOW TO MAKE THE SUPER APP MORE SUCCESSFUL?
Here are some pointers you can utilize to create a profitable super app or upgrade your current app to one:
Regular Modifications
Do not rush if you want to make your app a fantastic app. So that consumers may get acquainted with the amazing app capabilities, introduce them gradually. Such a strategy enables you to modify the user experience gradually rather than forcing users to immediately switch to an unproven technology.
Customization
Every user has a unique collection of favourite and practical services. If users cannot get them with a single tap, they will move to a location where it is simpler and quicker to access the required services.
Information should be well secured
The user information that the app gathers must be transparent, pertinent to the functions the app performs, and of course, not given to outside parties.
Keep it Minimalistic
Avoid cramming your super app with too many services. Only include those your audience will require. In advance, you can enquire about them via surveys and questionnaires.
High caliber.
Users continue to download apps to address their issues. No matter how nicely the app is made, it won't get any excellent reviews if the quality and customer service aren't high. Make sure your proposal satisfies the needs of the target audience before you begin developing.
CONCLUSION:
Super Apps have already become a global phenomenon for both the mobile industry and the globe at large. There is already at least one application that aims to meet all the needs of the user and make their life easier in many big countries.
The Asian applications WeChat, Alipay, Grab, Line, and Gojek are the best-known examples. Now, Uber, Google, and Facebook are also incorporating multiple apps into one. Therefore, if you believe that a fantastic app is something you need to develop to expand your business, we are here to assist you in making your bold ideas a reality.