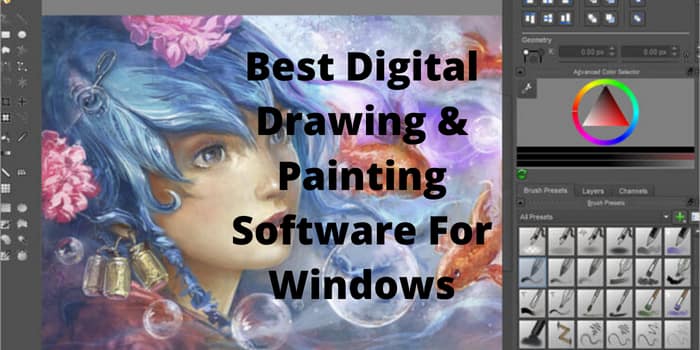 What is digital drawing/ painting?
It is when the artist draw digitally on a pen tablet or computer using the graphic software instead of pencil and paper. The good thing is that you can always undo your mistakes! You can revert back the action which messed your drawing and continue from the same point without starting all over again. There are different kinds of digital painting as impressionism, realism, and watercolor.
In a world which is transforming itself and being digital in every aspect. People tend to focus more on the digital drawing software. It is way to carry and use. Ideas can be drawn easily and in a better way. Human mind can get its motivation and idea from anything, anywhere and to bring that on a piece of paper with multiple pen, pencils, color scan be tough sometimes. Thus digital and painting software's are built and used for the better and convenient work of artists and architects. So they could better design and express their ideas to others.
Best software for digital drawing/painting for windows
There are so many options available on the internet. Here I will provide you with a few of them. So you yourself can decide which one of them suits you better and choose the best software for you and not just go with what I say.
So, there are a number of options in digital drawing software. Many of them are worthy of trying and using for example, Midpoint, Clip Studio Paint, Corel painter, Adobe Photoshop etc. Let's quickly have a look to get to know more about the software's.
Clip Studio Paint has in itself the best features of Adobe Photoshop and paint tool SAI which ends the using of two or more applications simultaneously.
Clip Studio Paint has two types. One of them is Clip Studio Paint Pro and the other is Clip Studio Paint Ex. Both of them has their specialties and functions. They vary from each other at some degree as in price (Pro-$49.99 and Ex-$219) and illustration features or painting styles or rendering functions or animation tools, edit and creation. Use the software by applying for the Clip Studio Paint Sale and get access to wide variety of features.
Corel painter is intended to be used by Digital artists as a creative tool it provides you with a 15-day trial with out the need of credit card.  It contains online access to libraries of unique brushes patterns textures and gradients Windows 10 is required to use this application with the latest update.
Photoshop is a well known software for editing photos and images. It gives a 7 day free trial. You can buy the subscription for $ 20.99/month that is 1,675.60 Indian rupees.
Income wine photos graphics in text to create completely new pictures also your work is synced to the cloud which make it easier to continue it again from where you have left.
You cannot have a permanent access to Adobe Photoshop, instead you can buy the subscription for a month or for a year, which will include GST and the upgrades.
Krita
Krita is a free and open source application. It runs on Windows, macOS, Linux, Android and Chromes. Krita is tested in windows 7 and support in windows 7,windows 8 and windows 10.
There are also certain effects which portray the realistic effects. You can create your own brush style using a combination of texture and shape. It has bundles of brush options which controls the stroke's direction, gap, scattering, density etc.
The best part of it is that , it is easy to use and free!
If I have to select between them I would definitely go with Krita. Your personal preference or choice may differ, but Krita is surely worthy to try. There is no subscription charges, no trial, and is open to expand your creativity with numerous tools and features.
As it says – No trials, No subscriptions, No limit to your creativity, Krita is a raster graphics editing software that is free and open-source software. Being raster graphics editing software it works on digital Painting and 2D animation primarily and has many different features. From beautifully drawn lines to advanced animation features such as color management, offers non destructive mask and layer, and many other.
It is loaded with number of tools that can be listed as follows-
• Over 1000 pre loaded brushes
• Brush stabilizers
• Vector tool
• Customizable brushes engines
i. Color smudge engine
ii. Shape engine
iii. Particle engine
iv. Filter engine
v. Bristle Engine
vi. Chalk Engine
vii. Clone Engine
viii. Curve Engine
ix. Deform Engine
x. Dyna Engine
xi. Grid Engine
xii. Hatching Engine
xiii. Pixel Engine
xiv. Quick Engine
xv. Sketch Engine
xvi. Spray Engine
xvii. Tangent Normal Engine
Customizable onion skinning
• Export results to video
• Audio import support
Easy to color code and arrange frames
• Fish eye point tool
The greatest advantages of the software are its light weight, flexible brushes, powerful layer control, and is totally free of charge under the GNU license. Through its wonderful features and custom optionsitmaketheworkeasyandtimesaving. Itis easy to use for long period project and for every artist and even beginners. As much as I hovered and observed about Krita, it is great and versatile.